Challenge and Solution
"Seventy percent of strategic failures are due to poor execution of leadership. It's rarely for lack of smarts or vision." - Ram Charan, Execution: The Discipline of Getting Things Done
At FranklinCovey we have studied the topic of execution for several years in thousands of teams and in hundreds of organizations. Our research shows that execution breaks down in four ways:
1. Managers and work teams don't know the goal.
Our research has shown that only 15 percent of employees actually know their organization's most important goals—either there are no goals or they have too many goals.
2. Managers and teams don't know what to do to achieve the goal.
Too many people don't know what critical activities provide the greatest leverage to achieving team goals.
3. They don't keep score.
Our research shows that most workers don't know what the key measures of success are, and they don't measure and track the specific behaviors that lead to goal accomplishment.
4. They are not held accountable.
Our research shows that fewer than 10 percent of people meet with their manager at least monthly to discuss their progress on work goals.
More importantly, we have been facing the dilemma of making the right decisions to execute our top priorities in the midst of a whirlwind of distractions.
It takes incredible discipline to execute a strategic goal in any organization. But it takes even more discipline to do so again and again. Creating a culture of execution means embedding four basic disciplines into your organization. At every level, individuals, leaders, and teams need to institutionalize a common approach which we call "The 4 Disciplines of Execution".
Target Participants
Leaders, senior managers, middle managers, and core teams who directly implement organizational strategies and wish to achieve superior results by excellent execution.
TRAINING REQUEST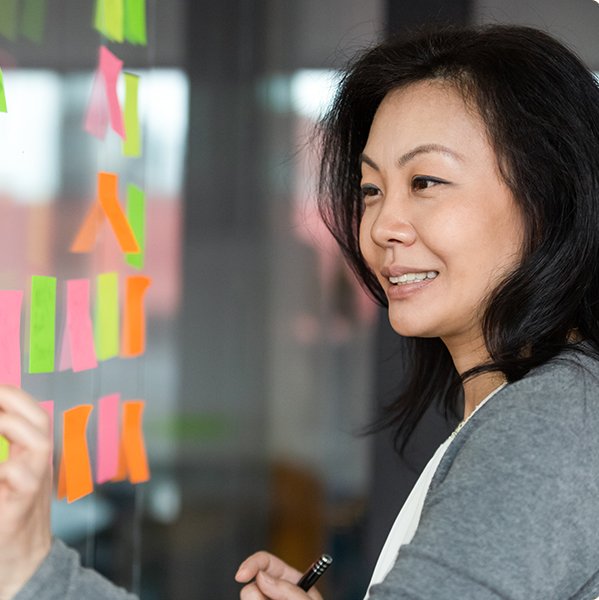 Process
Learn
You'll get up to speed fast... And not just on the basics! You and your team will learn the nuances and key insights to the universal principles of execution.
Facilitate
One of the most powerful aspects of 4DX is how it involves the team. In this section we get you and your team into the exercises that get the best answers and the greatest engagement.
Apply
With 15 years of helping more than 2,000 organizations implement the 4 disciplines, this is where the magic happens. For each discipline we will take you through a step-by-step process to take the complexity out of execution.
Create
It's one thing to have a great execution plan, it's another to have a working process for execution. In the "create" section you take the work you are doing in "apply" and "facilitate" and you drop it right into an easy-to-use system for running the 4 disciplines on a daily and weekly basis.